Mutifunctional Automatic Cartoner
Mutifunctional Automatic Cartoner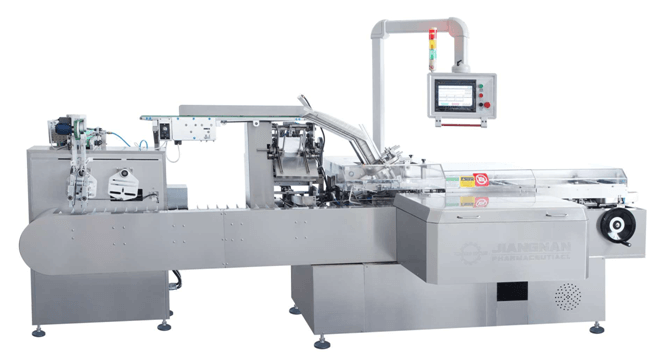 Mutifunctional automatic cartonermade up of material feeding and manage bottle-manuals fold-box deploy-put medicine and material in box-batch box-box seal-finished products output, etc, adopts machine, electricity, light and air mechatronics control, achieve medicine automatically product. Every operation adopts advanced checking equipment, automatic reject the substandard products in order to make sure the finished products 100% eligible. It controls the artificial error on lowest bound, effectively avoids the medicine to be polluted during packing and bring the bad quality.
Performance and characteristics
1.Continuous mechanical feeding materials and carton packing, and working of each functional part are in harmony, stable and reliable.
2.When materials do not reach correct position, the pusher has an alarm and halt facility for that, in order to ensure good quality of carton packaging and safety in operation effectively.
3.Servo material departing and feeding mechanism is stable and reliable.
4.Halt facility for air pressure and vacuum protection, when caster opened, the halt facility will be checked auto for operating safety of the machine.
5.It is easy, convenient and quick to change and adjust product size by hand wheel.
6.Variable frequency speed regulation, auto PLC control, operating on touch screen, words and numbers display, easy to operate, coefficient run stable.
7.Overload protection for principal driving, indication of failure diagnosis and auto halt of failure.